MIDWEEK CONNECT YOUTH MINISTRIES ARE ON PAUSE UNTIL SEPTEMBER
Newer to Connect Youth? Find out what we're all about by checking out the link below!
What's Goin' Down in Connect Youth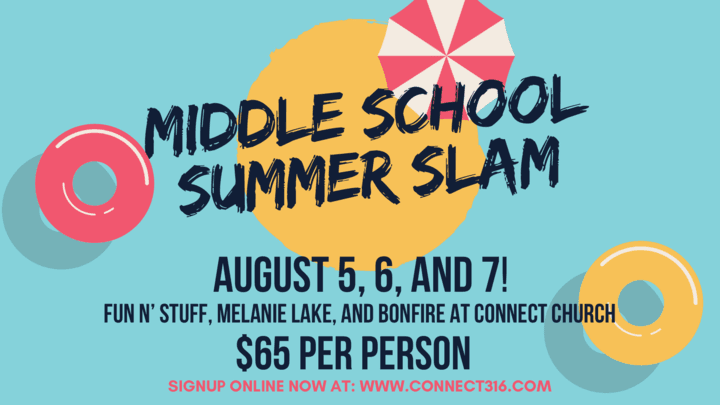 MIDDLE SCHOOL SUMMER SLAM
This summer we want to give our middle schoolers a weekend they won't forget! From August 5-7 the students will be going to Fun 'n' Stuff, Melanie Lake, and a bonfire at the church!
The $65 will cover admission to Fun 'n' Stuff and Melanie Lake and also cover food for the days we are at Melanie Lake and the bonfire. After you sign up watch your email for more information as we get closer to August.
Dates & Times:
Thursday August 5th- Melanie Lake 12pm - 5pm
Friday August 6th- Fun 'n' Stuff 6pm - 9:30pm
Saturday August 7th- Fire at the Church 6:30pm - 8:30pm
Hey Parents!
To stay in the loop with all that's happening each week in Connect Youth, we've got a parent's email list made just for you. We know sometimes announcements and info may not always make it home, so we want to make sure we stay in communication with your whole family to make the most out of Connect Youth for your teenager. Fill out the form below to get added to the email list, and we'll talk to you soon!
-Pastor Mikey